A Visually and Tonally Distinct Tele
With twin high-gain humbuckers and a fast-playing maple neck, the Squier Contemporary Telecaster HH promises modern performance from the timeless Tele design. The string-through poplar body with "String Saver"-style block saddles causes chords and melodies to resonate throughout the entire guitar. And thanks to its 12" radiused fretboard and exaggerated output, this guitar shreds with the best of them. A visual feature we particularly enjoy in the Squier Contemporary Telecaster HH is the matching painted headstock, which really sets this T-style apart from the herd.
Twin high-gain humbuckers
No mere Texas twanger, the Squier Contemporary Tele HH has you covered for all flavors of high-gain goodness, from singing leads and screaming solos to aggressive amp crunch — all with that distinctive woody spank.
String-through body
Whether you play rhythm or lead, you'll benefit from the Squier Contemporary Tele HH's string-through design. Strings pass through the body of the guitar up to the tuning pegs for sustain you can really feel in your hands.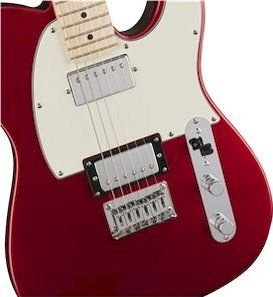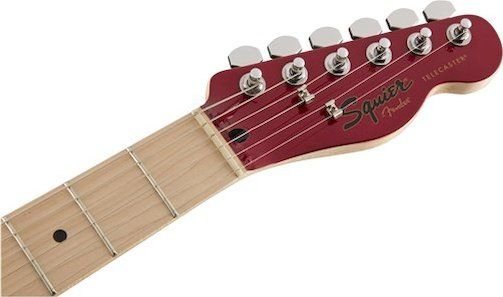 Fast-playing Slim "C" neck
Lead players will enjoy exploring the Contemporary Tele HH's quick, comfortable maple neck, whose 12" radiused fingerboard flattens out toward the body to facilitate faster playing styles. Jumbo frets make bends and vibratos a cinch, too. If you're looking for a great-playing Tele with inspiring stock tones to match, check out the Squier Contemporary Telecaster HH from Sweetwater.
Squier Contemporary Telecaster HH Solidbody Electric Guitar Features:
A visually, tonally distinct Tele
Inspired by the Fender Contemporary series of the mid-1980s
High-gain covered humbuckers promise modern performance from the timeless Tele design
Classic Tele control set: Volume, Tone, and 3-way blade
Fast, comfortable Slim "C" maple neck with 12" radiused fingerboard and jumbo frets plays like a true shredder
Eye-catching matching painted headstock
Sustain-enhancing synthetic bone nut